Click here to access classes (see class listing below).
When you arrive at the training site, you will see the courses available. Click on the class you are interested in. If the course has a cost, you will be asked under the training graphic to select "Take Course". If the course is free you will select "Add Dev Plan". You will then need to create a log-in and password. If you are having difficulties logging in please contact the headquarters office at 517-203-0737.
Ethics for EHS Professionals ($30.00 for 1 hour)
Built In-Not Bolted On: A Comprehensive Approach to Contractor Oversight

($15.00 for 1/2 hour)

Ergonomics Myths & Truths ($30.00 for 1 hour)
Cyber-Sense: Awareness and Preparation ($30.00 for 1 hour)
Safety First-All Hazards Situational Awareness, Hazard Identification and Risk Mitigation ($30.00 for 1 hour)
Effectively Navigating NFPA Industry and Commodity Specific Standards for Combustible Dust ($30.00 for 1 hour)
MIOSHA – COVID-19 Hospital State Emphasis Program Overview ($0.00 – no CEU credit)
We will be adding additional courses in the near future.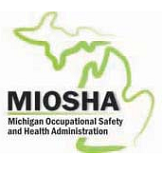 This on-line Learning Management System was prepared in part by a Grant awarded by the Michigan Occupational Safety and Health Administration (MIOSHA). MIOSHA is part of the Michigan Department of Labor and Economic Opportunity (LEO). Points of view or opinions stated in this on-line training do not necessarily reflect the views or policies of LEO and/or the Michigan Safety Conference.